11:23
It's not been a good day for Tottenham Women. They're currently 6-1 down to Arsenal.
11:22
Moyes is back from corona, and says his team played well after lockdown and good in pre-season so he's not surprised they're doing well now. Looking at their XI, they must be an absolute mare to play against.
11:21
I was thinking during the week about the total ridiculousness of Mourinho's achievements. Save coming second with that dreadful Man United team that had a decent keeper, which is his best achievement of these:
1. Back to back Europa League and Champions League with Porto.
2. Inspiring a team that lasted a generation at Chelsea.
3. Winning the treble at Inter.
4, Taking a league title off the greatest club side ever at Madrid.
11:18
David Ferrier has the answer: "The only time the FA Cup left England, won by Cardiff City?"
There it is.
11:17
Back to 1927, "Was it that players were limited to a maximum of five cigarettes on the pitch?" wonders Bill Hargreaves.
Woodbines only.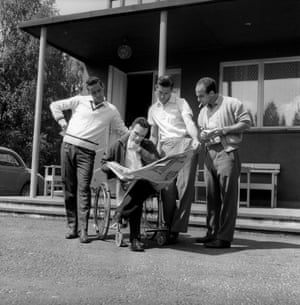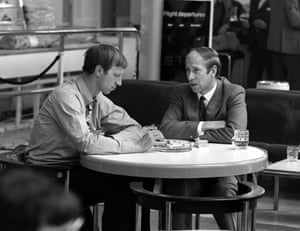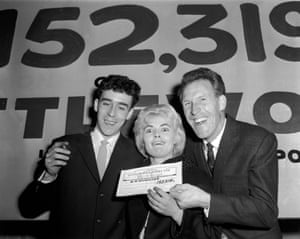 11:11
"Can you explain if Spurs bought Matt Doherty to do anything other than weaken their main rival for a place in next season's Europa League?" asks Duncan Edwards. "That and mess with my Fantasy Team week in week out."
He's good, was cheap, and gives them an option of 3-5-2. It's also hard not to notice that he's repped by Jorge Mendes, who also reps Mourinho.
11:10
Garry Bale, then. If he's not lost his gas, he's one of the best players in the league, though I wonder where he'll play. I find he looks a bit awkward on the right because he's a power player not a touch player, so looks more comfortable on his natural side, but Son plays there. I guess they can swap and rotate.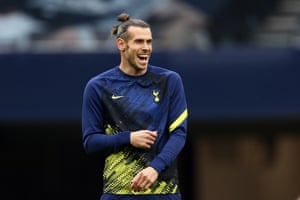 Updated

11:09
Mourinho says that the "message and philosophy we want is here". He says they don't talk about top four, or winning a cup, just about the next match, and doesn't matter where or against who, but they go in order to win. At Old Trafford, they conceded a goal in the first minute and just played their football.
On Bale, he says he has three "incredible attacking players" on the bench, and also references the excellent ones who aren't involved.
11:02
Who can forget this encounter? And go on, a trivia question while we're here: what was, and remains, unique about the 1927 FA Cup competition?
10:59
That said, I'm slightly surprised we've not seen more of Bergwijn, who looks a far better player than Moura, has more room for improvement and – crucially for Mourinho's purposes – is no less unpredictable.
10:57
Back to that Spurs XI, my guess is that Bergwijn would've come in anyway. Lamela was there to do a particular job at Old Trafford – win the ball off United's dicky back-four high up the park – but against West Ham, width will be the order of the day, which is why, I imagine, Aurier and Reguilon remain the full-backs. Though Kane and Son are good enough to fashion a goal in all manner of circumstance, the game for Spurs is out wide.
10:53
At Selhurst Park, Alexis Mac Allister has just equalised in the … er … checks notes … M23/A23 derby in the final minute. There are, though, seven minutes of injury time to play and whatever happens, both sides can ultimately console themselves with tea at Tasty Jerk next door the ground.
10:49
Spurs make two changes from their 6-1 Old Trafford squeak: Eric Dier has a minor hamstring, so Toby Alderweireld comes in, and Erik Lamela is

suspended after his red card against Man United
injured (I think), so Steven Bergwijn comes in. It's funny really, given Giovani Lo Celso and Dele Alli are also missing, out of nowhere Spurs look like they've got a good squad. Oh and Gary Bale is on the bench.
10:39
Let's have some teams…
Tottenham Hotspur (a reanimated 4-3-3): Lloris; Aurier, Alderweireld, Sanchez, Reguilon; Ndombele, Sissoko, Hojbjerg; Bergwijn, Kane, Son. Subs: Hart, Doherty, Davies, Winks, Moura, Vinicius, Bale.
West Ham United (a sophisticate's 5-4-1): Fabianski; Coufal, Ogbonna, Balbuena, Cresswell, Masuaku; Bowen, Rice, Soucek, Fornals; Antonio. Subs: Randolph, Fredericks, Diop, Noble, Snodgrass, Lanzini, Yarmolenko.
VAR's straight man: Paul Tierney (Belfast)
05:41
Preamble
Football is extremely weird – at the best of times but even more so now. Yet even in such circumstances, Tottenham Hotspur and West Ham United stand out from the mess, the kid in the playground who turns up for school in an overcoat thinking it makes them classy, and the kid in the playground who turns up in a pink fur thinking it makes them different. Or something like that.
Not that long ago, Spurs looked to be hurtling through the phases of Mourinho at record speed – footage of their performance at Lokomotiv Plovdiv has been censored in some countries – but they muddled through and have been much better since, defensive uncertainty offset by devastating speed in attack. And seduced by the sadism of it all, Jo looks an entirely different manager; the smug is back, and football is all the richer for it.
Similarly, West Ham looked a total state … and then the season started. Their last three league games have seen them lose narrowly to Mikel Arteta's genius before handing absolute tousings to Wolves and Leicester, feats beyond the majority of teams in the world, never mind the country. With Tomas Soucek and Declan Rice sitting in front of three centre-backs, penetrating them is a miserable task, Michail Antonio is a one-man forward line, and David Moyes looks to have found a real one in Jarrod Bowen. If they can refrain from early collapse, they have more than enough to do something in this one.
All of which is to say that we should be in for an exciting and high-scoring game … or with both teams set up to minimise risk while scoring on the counter, the ball spends 90 minutes on the centre-spot. Definitely one of the two.
Kick-off: 4.30pm BST
Updated