15:17
Greater Manchester hospitals 'at serious risk of falling over', says city council leader
Sir Richard Leese, leader of Manchester City Council, has warned of the "absolute seriousness" of the position Greater Manchester's hospitals are now facing. In a press conference this afternoon, Leese said:



Others, including the secretary of state for health, talked about our hospitals falling over. It was part of the argument for putting us into tier Three months ago. I don't believe we were at risk of falling over time. I now do believe that we are at serious risk of falling over, and that really does mean we have to do everything possible to ensure that doesn't happen.
In Greater Manchester, approximately 30% of all cases are a new variant of coronavirus, and that proportion appears to be growing.
The seven day rate of positive cases per 100,000 has increased from 193.2 as of 25 December to 320.5 as of 1 January in Greater Manchester. In Wigan it has increased from 182.3 to 354.8, and in Stockport from 212.0 to 350.3, with the same respected dates.
Leese also recognised ''phenomenal change" in hospitals across Greater Manchester, with 250 ICU beds for coronavirus patients. "The standard number of ICU beds for Greater Manchester is 227, so they're already 23 surge beds in that number," Leese said.
Despite this, the number of residents testing positive in care homes has fallen to 1.9%.
With regard to vaccines, according to Leese, in the top four categories in Greater Manchester, there are 556,000 people requiring vaccines. In order to meet the vaccination target, he said, they would need to vaccinate 90,000 people a week.



I'd have to say we need a bit of a gale in order to be able to achieve that time, but let's hope that we do and we are certainly gearing up to be able to do that.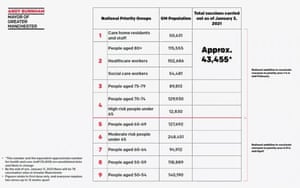 15:02
Hancock opens debate on lockdown regulations
14:59
NHS England reports 674 more Covid hospital deaths
14:44
The Scottish government has reported a further 68 deaths of people who tested positive for Covid-19, in one of the highest daily totals since the fresh outbreak began, with another 2,039 positive cases being detected.
The latest data shows 95 people in intensive care, the highest daily figure since late November, and 1,384 people in hospital. Public Health Scotland data shows that 47.5% of all new Covid cases involve the highly infectious new variant B117.
In all, the deaths of 4,701 people with positive Covid tests have now been registered in Scotland, with some death registrations delayed by public sector holidays over the Christmas and new year holidays.
National Records of Scotland, a government agency, is due to produce updates of all deaths where Covid was mentioned on the death certificate, involving all cases since 20 December, on Thursday.
Updated

14:42
At least three London boroughs have written to faith leaders in their areas to ask them to suspend communal services of worship even though it is not required under the new lockdown rules.
Barking and Dagenham, Redbridge and Harrow councils sent letters on Tuesday saying the rate of Covid infection warranted a pause in communal worship.
According to the letter from Barking and Dagenham council, the Anglican bishop of Barking and the acting bishop of Chelmsford have called on churches in east London to move services online. Mosques, gurdwaras and Pentecostal churches in the area supported the move, the letter said.
Many local faith leaders in England have expressed anxiety over keeping places of worship open with infection rates at their highest level since the pandemic began. Churches and other places of worship in Scotland have been ordered to close.
This is from the Muslim Council's Miqdaad Versi.
14:37
Williamson says Sats not going ahead in England this year
13:33
Gavin Williamson's statement to MPs
Updated

13:31
More than third of hospital beds in Wales occupied by Covid patients
More than a third of hospital beds across Wales are occupied by Covid patients, the Welsh NHS chief executive, Andrew Goodall, has said.
Goodall said six hospitals in Wales were at level 4 – the highest level of emergency – and 10 were at level 3. He said:



The NHS is working very hard to balance winter and emergency pressures, with the demands of looking after increasing numbers of people who are seriously ill with coronavirus.
Goodall said there were almost 2,800 Covid-related patients in Welsh hospitals. This is 4% higher than the same point last week and it represents the highest number on record. He went on:



If this trend continues, very soon the number of coronavirus-related patients in hospital will be twice the peak we saw during the first wave in April.

More than a third of hospital beds are occupied by Covid-related patients. This varies across Wales and is close to 50% in two health boards. This has a significant impact on their ability to deliver local services.
Updated