15:12
New data from Public Health England shows the proportion of positive tests for Covid-19 declined in the week to 10 January, while hospitalisations, ICU admissions and mortality continued to increase.
According to PHE's latest Covid surveillance report (pdf), positivity remained high at 13.3% of all pillar 2 tests (tests conducted outside hospitals), but decreased from the previous week, when 17.5% of all tests came back positive.
There was also a decline in the number of confirmed cases, although test results for the most recent week are provisional due to a delay in processing samples.
There was also a 38% rise in the number outbreaks of Covid-19 in care homes, the figures show, with 692 incidents reported in the week to 10 January. The number of outbreaks in care homes has risen for the past five weeks.
Despite government guidance to work from home where possible, the number of coronavirus outbreaks in workplaces also increased by 70%, with 175 incidents reported.
Updated

14:58
NHS England records 884 further Covid hospital deaths
14:46
Starmer says government has made 'complete mess' of pre-flight tests for arrivals to England
Updated

14:00
No 10 rejects London mayor's claim capital not getting its fair share of vaccine
Updated

13:22
Activist and author Naomi Klein says she sees Covid as a teacher that highlights problems with the way we currently live.
Speaking at the Oxford Real Farming Conference last night, Klein said her new short film, "A message from the Future II" was an exercise in "dreaming our way out of this moment and imaging Covid as a teacher". She said:



That was informed by social movements in Puerto Rico after Hurricane Maria. We talked about Maria, as a teacher, as a harsh teacher, unveiling and revealing pre-existing crises, but also creating a kind of a roadmap for how we change if we learn these lessons.
The film depicts a future where landscapes are rehabilitated, broken infrastructure is repaired and the cycle of endless consumption is broken. She said:



We end the film with this slogan that no one is sacrificed and everyone is essential. And, of course during this period, the people who were treated as disposable before the pandemic have really been treated as sacrificial during it.
It follows on from last year's Emmy-nominated short film "A Message From the Future with Alexandria Ocasio-Cortez," which has been viewed more than 12 million times and looks at a potential future if the Green New Deal is pulled off.
Klein said creating the future depicted in the film was a combination of hope and hard work.



It's not by any means coming out of a spirit of 'we know that this future is coming' – it's not a prophecy. We get it if we earn it. And I think that that's the message of the film.
Last year Klein told the Guardian editor Katharine Viner that the pandemic had forced us to think more about interdependencies and relationships, and said the recovery must have climate, quality and fairness as its core.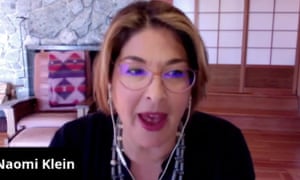 Updated

13:22
The Scottish government has removed its Covid vaccination plan hours after it was published online, after the UK government raised concerns that the document included sensitive details about vaccine supply.
At her lunchtime briefing, Nicola Sturgeon said that her government had been "seeking to be very transparent … but the UK government has got some commercial confidentiality concerns about that".
A UK government source told PA Media:



The reason we didn't want to publish these figures was because everyone in the world wants these vaccines, and if other countries see how much we are getting they are likely to put pressure on the drug firms to give them some of our allocation.
Yesterday, Scotland's health secretary, Jeane Freeman, revealed the location of a vaccine store in a Holyrood statement, something a Scottish government spokesperson later told the Sun should not be publicly identified for security reasons and should not be reported.
These mis-steps come after the Scottish government was accused of a "sluggish" initial roll-out of the vaccine and a lack of clarity around how Scotland's allocation is being used.
Freeman confirmed yesterday a total Scottish vaccine allocation of 562,125 doses. Of those, 365,000 doses have arrived in Scottish vaccination centres or are with health boards or GPs while the rest are either in transit or in storage at an English logistics site.
Questions have been raised about why so many vaccines remain unavailable for immediate use after Freeman halved the target she set in November of vaccinating a million Scots by the end of January.
Before it was removed, the Scottish plan confirmed a series of targets:
Over-80s to be vaccinated by first week in February, as well as care home staff, frontline NHS and social care workers (around 250,000 people).
All over-70s by mid-February.
All over-65s plus clinically extremely vulnerable by the beginning of March.
All over-50s and vulnerable younger people by early May.
Sturgeon said today she was unable to give a definitive end date for whole Scottish population being vaccinated because there was a need for greater certainty on actual supply.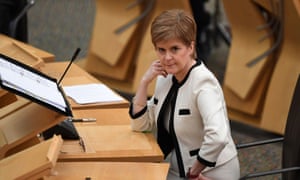 Updated

13:04
North-east and Yorkshire doing best for over-80s vaccinations, and east of England worst, figures show
New figures released by NHS England this morning show differing rates of vaccinations across the different regions.
Almost 2 million people in England received their first dose between 8 December and 10 January. That figure has since risen to 2.25 million as of 12 January but the regional breakdown does not cover the last two days.
London has the lowest proportionate first-dose rollout to date at 2,231 vaccines per 100,000 population rising to 4,309 in the north-east and Yorkshire, close to twice the London rate.
Some of this discrepancy is due to differing population levels among the 80+ age category, one of the highest-priority groups: 3.4% of Londoners are aged 80 and over compared with 5.2% in the north-east and Yorkshire.
Here is a table showing the proportion of all vaccinations compared to 2019 mid-year population figures by NHS region.

Of the total number of first-dose vaccines administered to 10 January 1.04 million were among those aged 80 or older, meaning 37% of the over-80s population have now received a first dose of the vaccine.
A fifth of those – 374,000 people – have gone on to receive a second dose, bringing the total number of vaccinations administered in England to date to 2.37m doses on that date (rising to 2.67m by 12 January).
The UK needs to reach 2m doses a week if they are to reach the 13.9 million most vulnerable people by 15 February, when the government aims to "offer" a first dose to all those in four most vulnerable categories.
Updated