January 7, 2021

Latest Update: January 7, 2021 5:26 am

2

16 minutes read

0
05:26
28th over: Australia 68-1 (Pucovski 35, Labuschagne 28) Far too short from Ashwin and Labuschagne, who's been stuck in a rut these past few overs, breaks the shackles with a boundary through the covers. And just like London buses, another four follows next ball backward of square that sees the batsmen scamper through for an all-run four before the ball trickles to a halt.
05:23
27th over: Australia 59-1 (Pucovski 34, Labuschagne 20) Excellent again from Siraj, who looks to be growing into this series, and Test cricket, nicely. Good pace to Labuschagne and that leg-side line is going nowhere. Back to the second Pucovski drop, I wonder if Pant had any idea the ball was grounded before he gained possession of it. The answer, I guess, would have to be: no.
05:16
25th over: Australia 56-1 (Pucovski 32, Labuschagne 19) Siraj continues his lively spell. A single brings up the fifty partnership between these two, at a run-rate of a tick over two per over. That might be uneventful on face value but there's no shortage of drama as Pucovski survives another DROPPED CATCH!
Pucovski tries to hook a short ball but does no more than spoon the ball into the air off his glove. The pace on the ball takes the ball over the keeper's head and Pant does a good job to get his gloves the ball as it initially bobbles out before seemingly returning to the keeper's keeping. The initial decision is OUT but on review the ball clearly kisses the turf before Pant regains control. Decision overturned. Pucovski survives. Again. Drama indeed.
05:08
24th over: Australia 55-1 (Pucovski 32, Labuschagne 18) This has been a good little period for India with the runs drying up and Pucovski surviving a catching chance, but Pucovski releases the pressure with a delightfully struck cut shot that whistles past point for four. Nice shot from the man who almost wasn't there.
05:05
23rd over: Australia 49-1 (Pucovski 26, Labuschagne 18) Labuschagne chases Siraj down the leg-side and India look interested as Pant takes cleanly, but there doesn't seem to be any bat involved. Another maiden to Labuschagne.
Here's the dropped catch.
05:02
22nd over: Australia 49-1 (Pucovski 26, Labuschagne 18) Ashwin again to Pucovski and he's determined to bowl full to a man who's determined to play back. Leg slip in place, the debutant prefers to use pad only to one that angles across his body before punching one through the covers for four.
Pucovski finally gets on the front foot and India should have their man but it's a DROPPED CATCH as Ashwin collects the outside edge only for Pant to spill the regulation chance off his left glove. It was a very good ball, too good for batsman and keeper. A life for Pucovski. What will he do with it.
04:56
21st over: Australia 47-1 (Pucovski 24, Labuschagne 18) Bumrah is indeed given a well-earned breather as Rahane goes back to Siraj to preserve pace from one end. The leg gully is there for a couple of reasons and the over ends with Jadeja stopping Labuschagne's neat turn to save certain runs. Time for drinks.
04:51
20th over: Australia 46-1 (Pucovski 23, Labuschagne 18) Labuschagne finally stays in his crease to Ashwin, looking to cut, but the ball seems marginally quicker and the batsman is beaten. It's a good delivery that keeps Marnus watchful for the remainder of another maiden over.
Here's that Labuschagne boundary.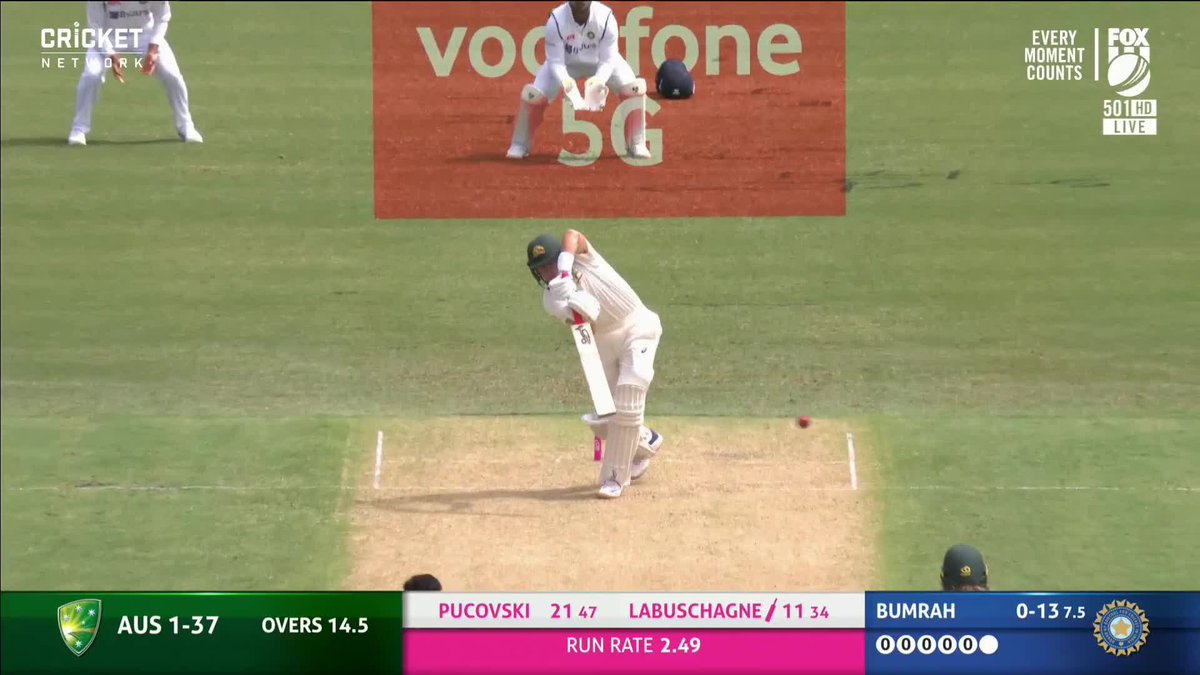 04:47
19th over: Australia 46-1 (Pucovski 23, Labuschagne 18) Bumrah continues his now lengthy spell. He looks to tempt Pucovski with an effort ball but the right-hander ducks safely beneath before keeping out a full, straight one to finish the over. Another maiden. Is that Bumrah done for now?
04:42
18th over: Australia 46-1 (Pucovski 23, Labuschagne 18) Ashwin mixes things up, altering his line, length and speed to try to get something out of this pitch. When he overpitches, Labuschagne catches him on the half-volley and drives through the covers for two. Marnus remains committed to getting forward to the spinner and he's untroubled for the rest of the over.
Updated

04:40
17th over: Australia 44-1 (Pucovski 23, Labuschagne 16) Labuschagne defends a straight one to Bumrah, following through as if his blade suddenly morphed into a light sabre. A single follows before Pucovski plays a rare false shot, hanging his bat out to one outside off-stump and (luckily for him) missing. That shot was an outside edge waiting to happen. Excellent over from the mighty Bumrah.
04:35
16th over: Australia 43-1 (Pucovski 23, Labuschagne 15) Pucovski uses his feet to the turning ball, cutting Ashwin for two. He plays back again, and then again, to balls of good and fullish length. No more scoring in the over.
04:33
15th over: Australia 41-1 (Pucovski 21, Labuschagne 15) Bumrah continues. One keeps a little low and that's probably what saves Labuschagne as his genuine edge lands safely in front of first slip. Bumrah follows up with a real beauty, drawing Marnus forward and beating the bat with just a touch of away swing. He's a great bowler but Labuschagne is pretty good too, and he finishes the over with a neat on-drive that he punches to the fence.
04:28
14th over: Australia 37-1 (Pucovski 21, Labuschagne 11) Time for a change of bowler and a change of pace as Siraj makes way for Ashwin. Labuschagne shows the spinner all three stumps but keeps out a straight one. Not a great deal of turn and not a great deal of help from the pitch after the rain delay. One Labuschagne single from the over.
04:23
13th over: Australia 36-1 (Pucovski 21, Labuschagne 10) Bumrah again. The Indian overpitches down leg to Pucovski and is lucky to be taken for only a single. That was a rare four-ball from Bumrah. Another single follows as Labuschagne drops one on the crease with soft hands and catches the infielders napping.
04:20
12th over: Australia 34-1 (Pucovski 20, Labuschagne 9) Another assured shot from Pucovski, who rolls his wrists and almost plays across the line to a decent delivery from Siraj, collecting three through midwicket. Some might have looked to punch that ball through the covers or down the ground. Interesting batsman who is so far impressing on his Test bow.
Updated

04:16
11th over: Australia 31-1 (Pucovski 17, Labuschagne 9) Labuschagne leaves a Bumrah off-cutter entirely on length and it's a very nice leave seeing as, on line at least, the ball was destined for the off-stump. There's no leaving later in the over, however, as a shortish ball that's a bit too straight is pulled confidently to the fence by Marnus. Not one of Bumrah's finest deliveries and that is precisely what you have to do to those: put them away. You don't get many of them.
"Good to see play resuming," writes David Markham. "Can I tell a little tale from my grade cricket umpiring career? We got the players back out in a similar situation. On about the second ball, the bowler's foot smashed down and kept going as he slid down the pitch gouging a great hole in the 'danger area'. We agreed we may have gone back a bit early."
04:11
10th over: Australia 27-1 (Pucovski 17, Labuschagne 5) Better from Siraj, not quite as full as the previous over, but he's clearly viewing lbw as a likely mode of dismissal for Pucovski, who is possessed of a slight shuffle across his crease. Just to keep the batsman guessing, Siraj drops a couple in short and the result is another maiden. This is a gripping battle between bat and ball, between two young men.
04:07
9th over: Australia 27-1 (Pucovski 17, Labuschagne 5) Bumrah at the other end, over the wicket to Labuschagne. The fast bowler is trying to entice Marnus outside off-stump but he's not falling for that one. Maiden over.
We're onto something here with the pronunciation of names.
"On the topic of names," writes Sean Dunne. "It gets weirder with my wife's family whose name is Russo (originally from Italy) but her dad pronounces it Russ-o almost like rustle, whereas his wife and kids say Roos-so. His family brought it over as immigrants but started making it sound more Australian to fit in, whereas the others want to embrace the way it would be pronounced in Italy.
"These things evolve I'm sure over time and look to fit in. There are plenty of Europeans who fleeing WW2 certainly adapted their names similarly to fit in."
Good point, Sean.
04:04
8th over: Australia 27-1 (Pucovski 17, Labuschagne 5) Siraj continues his interrupted over, over the wicket to Pucovski. Two slips in place. Forward defensive first-up from Will. Middle of the bat. Labuschagne wants a single but nothing happening. Siraj then gets one to swing in to the tight-hander, collecting the pad. Not out but it is a shot across the bow of the debutant. Speaking of shots, Pucovski follows up with a measured off-drive that he punches down the ground for three. Upright, compact, patient: this is Pucovski on debut. Labuschagne then replicates the shot and the outcome as five balls go for six runs. Live cricket. It's good to have you back.
03:52
Play to resume at 3pm EDT!
Very good. Hopefully there are no more false dawns.
Restart: 3pm
Tea: 4.40-5pm
Stumps: 6.30pm
Also very good. Yes, Gary, you may.
03:48
Back to the topic du jour.
On a similar theme consider Collingwood AFL player, Jordan de Goey. He, like his entire Australian brethren I would imagine, voices his surname with a hard 'G'. Try that on in the Netherlands and they would look at you funny.
The great Ed de Goey, the former Chelsea and Netherlands goalkeeper, went with 'Hooy', which is of course the correct pronunciation. But try telling Jordan he's saying his surname wrong.
Funny isn't quite how he'd look at you in response, I'd wager.
Updated

03:40
And now the blowers are out, drying the area a metre or two behind the stumps. It does look damp. But it hasn't rained for nigh on half an hour, so why have they waited until now to do it? The two gents with tools in hand can come and do my driveway once they're done.
"I am delighted that its raining," writes Sankaran Krishna. "This is what separates the true cricket connoisseurs from the rest. While everyone else is baffled by the illogic of lunch and tea breaks amid such delays, the often farcical "inspections", the whole ballyhoo about light meters etc., the fact is that it's the sheer unpredictability of it all that makes cricket.
"On a totally unrelated matter, cricket is going to have to deal with the bouncer issue soon. And its going to be a very hard issue to deal with. On the one hand, taking it away really nobbles the bowlers. On the other hand, as cricketers like Pucovski reach the highest forms of the game, we are going to see a grievous injury sooner rather than letter, when and not if. What does one do? Discuss."
One does not do away with bouncers, that's what.
03:35
The umpires are having a good look at the pitch, the area just behind the pitch where the bowlers run, while motors with ropes attached are doing their level best to clear the outfield of surface water.
Watching it all unfold, Mark Waugh is only a shade short of apoplectic. He wants cricket. And let's face it, we all want cricket.
"Why are they inspecting at 2.30pm? Why aren't we playing at 2.30pm? Put some sawdust on there and let's play."
Has Junior even not made sense?
03:28
Three interesting takeouts from the telly interview with Tim Paine:
1. David Warner is the most annoying member of the team;
2. Warner is fine, injury-wise, despite looking far from comfortable during his short stay in the middle;
3. Play should resume shortly.
On the third point, the sun is out and there is a pitch inspection at 2.30pm EDT, so the Aussie skipper might well be right.
Updated

03:23

Scott Heinrich
Thanks Geoff. Well done on keeping things up vibe and interesting during the rain break. Nothing beats live cricket but ruminations over pronunciation and phonetics might well come second, albeit a distant one. The matters we discuss during weather delays in Test cricket is a discipline in its own right, one that requires application and sincere thought. Nothing trifling about it. That said, let's hope the remainder of day one in Sydney is filled with action on the field. We've waited long enough to see Pucovski in a baggy green.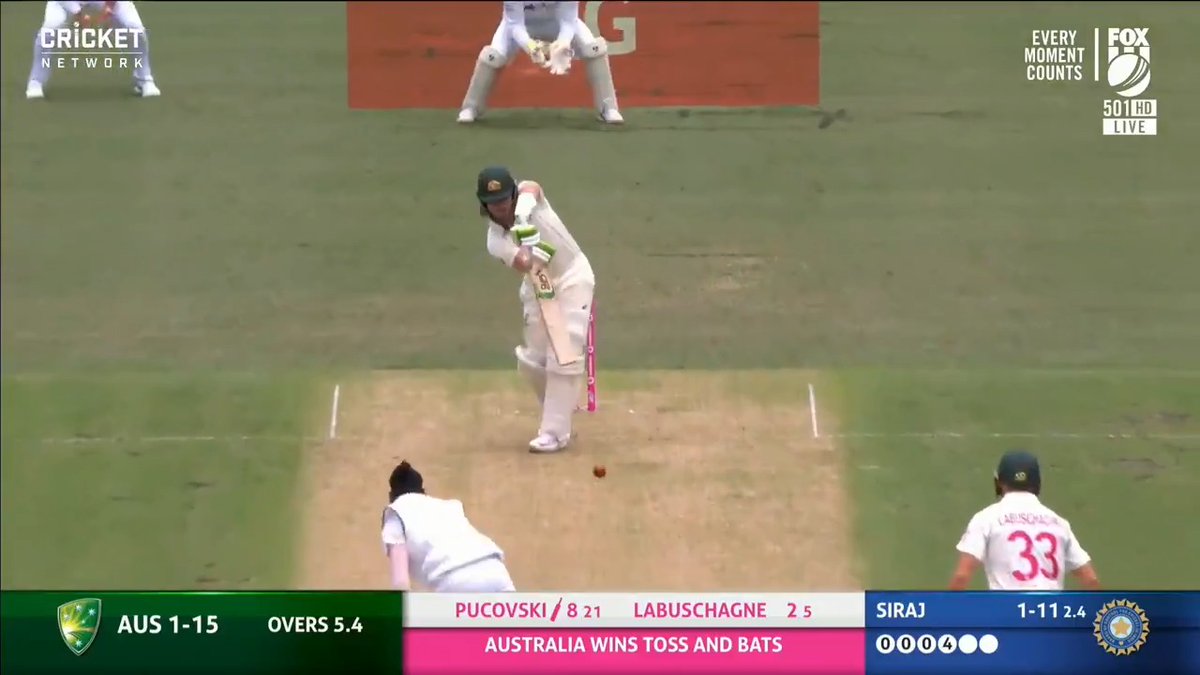 03:18

Geoff Lemon
I've done my 7.1 overs for the day, and it's time to hand over to Scott Heinrich. It's been an interesting shift though, thanks to everyone for the conversation. It would have been a very dull few hours without you.
Tim Paine is walking out with a football to have a kick and feel the grass, so the rain has fully stopped. For now. Good luck.
03:16
Linguistics and OH&S, our topics for today. Alex Kupa writes in.
"I have a few family members with 'ethnic' names that are perpetually mangled, and my own middle name, which is from Indonesian, is never pronounced quite right (Guntur, the Indonesian for thunder, is pronounced as if it is of German origin). I would never want to change my name's pronunciation just for others."
"The name Labuschagne is originally French. Presumably it was pronounced in the French way, like champagne, before being shifted on migration to South Africa in the 18th century. If one is opposed to the Australian tongue causing a change in the pronunciation I see no reason to be more comfortable with the Afrikaans tongue doing the same. To me, the Aussie pronunciation recalls the original French, and may be more true to the name's origins than the Afrikaans pronunciation."
It's a question of how far along the line of change we are. If the Afrikaans shift happened generations ago, then those bearing that pronunciation may be proud and protective of it. The same as there may be Australian Labuschagnes three generations hence who will see the Australian pronunciation as key to their identity.
In this case, we're at the point where the pronunciation first shifts, and the person with the name said that he shifted it deliberately because he wanted it to be easier in his adopted country. Wanted to fit in. Which seems a bit sad.
Different linguistic practices will never get every nuance of pronunciation right – I can't pronounce the current Indian names exactly like a native speaker. But we can try to get as close as possible.
03:07
The machines are out in the middle trying to soak up water, looks like the rain might have stopped again. Around we go.
03:06
A couple of responses to Scott Lowe earlier. One from David Markham.
"While there are some lunatic fast bowlers out there in the world, fast bowlers who bowl short are generally not trying to hit the batsman in the head – that would clearly be unethical. They are basically trying to mess up batsmen's footwork so they play back to balls they should be playing forward to. As a Test opening batsman, you can hardly expect the other side to go easy on you."
Kerrith Britland in Kent says, "I was thinking something similar to Scott. I'm not sure any bowler wants permanently damaging another player on their record, which means they could consider not bowling short at all. This is obviously not in the interest of the game. In boxing, if you don't protect yourself, the fight is stopped. Perhaps that could inspire a similar rule in cricket; if you can't protect yourself (either by playing your shots or getting out of the way) you get warnings and suspensions. If you get concussion, it's an immediate month ban."
I think Scott's position was that he knows it's a legit tactic, it just feels wrong. Uncomfortable to watch as entertainment, especially. I guess there's the part of the game that isn't entertainment though, it's the challenge for the player.
Re Kerrith's point, putting it in terms of being banned would make it seem punitive rather than preventative. But in some ways that's already the protocol: that all hits have to undergo concussion tests, and that once that's diagnosed players are prevented from returning until they're fit. If teams could get rid of, for instance, the best opposing bowler by badging him, and having him sit out for a month even if fit, that might encourage more dangerous bowling and head knocks.
02:58
Gavin Robertson (not that Gavin Robertson, he hastens to add) is at the Test. I think the other Gavin Robertson is there doing radio commentary, perhaps they can Gavout together afterwards.
"Sitting at a social distance in the SCG right now. Isn't this rain/sun/rain thing frustrating? I'm wondering why Nick 'Honey Badger' Cummins is batting for Australia today? Has he ever been seen in a room with Pucovski, or are they actually the same person?"
One Cummins is never enough, I'm sure we can agree. I had the same thought earlier this morning. Your request for a side-by-side, Gavin, is granted.
02:45
"In the absence of any cricket, let me ask a question to what everyone else seems to know the answer. I've been asleep for a few years. What is the correct and incorrect way of pronouncing Labuschagne?"
Gavin Twedily with the thirst for knowledge. It's a South African name via Dutch, presumably, so the G is the glottal sound in the back of the throat that you hear in Afrikaans. Think Lah-boo-skagh-nay.
Apparently that's too difficult for Australia, so we made it Lab-boo-shane.
02:37
"So who are the favourites here?" asks Richard Liddle. "India with the momentum but Australia looking so much better on the injury front. And would the Black Caps beat both sides comfortably?"
I doubt they'd beat Australia. New Zealand have been playing beautifully, but they have a remarkable ability to choke against the trans-Tasman rival, no matter the respective situations. The Kiwis were flying in 2015 but came over and got steamrolled. Similarly when Australia visited in 2016, and the same story when NZ toured Australia a year ago.
It would be a great story to see that hold get broken, and to see NZ make it into the World Test Championship final if that can go ahead mid-year.
02:32
And now it's started raining again. Covers coming back on.