07:19
Hi everyone, this is Jessica Murray taking over the blog for the next few hours – please do get in touch with any story tips or personal experiences you would like to share.
Email: jessica.murray@theguardian.com
Twitter: @journojess_
07:03
US reports record daily deaths
06:06
London hospitals could soon be overwhelmed by Covid
Hospitals in London could soon be overwhelmed by Covid-19 and left short of almost 5,500 beds they need to cope with the explosion in cases, NHS leaders have revealed.
The health service's lead doctor for the capital shared the worrying analysis with the most senior medics in the city's NHS hospital trusts on a Zoom call on Wednesday afternoon.
In his briefing Dr Vin Diwakar said the sheer numbers of people becoming seriously unwell with Covid could see the capital's hospitals facing a shortfall of anything between 1,932 and 5,422 beds by 19 January.
Hospitals will face a serious lack of beds by then even if London's Nightingale hospital reopens, they manage to increase their supply of beds and measures to limit demand – such as the latest lockdown which began this week, the third England has faced – prove effective:
05:56
The rollout of the Covid-19 vaccine in Australia has been brought forward to mid-to-late February with the Morrison government aiming to have four million receive the jab by March.
Announcing the accelerated rollout on Thursday, the prime minister Scott Morrison also indicated it would be up to the states and territories to decide whether the vaccine could be made compulsory for some groups, such as aged care workers:
05:07
An estimated 150,000 bars and restaurants in Tokyo and the three neighbouring prefectures of Kanagawa, Chiba and Saitama will be asked to stop serving alcohol at 7pm, and people will be encouraged to avoid non-essential outings after 8 pm.
Companies will be asked to step up remote working provision with the aim of reducing commuter traffic by 70%, media reports said.
While Japanese authorities lack the legal powers to enforce virus prevention measures, most people are expected to comply with the advice – one of several factors experts believe explains Japan's success in keeping its caseload and death toll far lower than those in the US, UK and some European countries.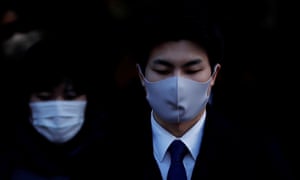 That said, the government is planning legislation that would allow local authorities to fine businesses that do not comply. For the time being, subsidies will be offered to establishments that close early, while the government could publicly name those that fail to follow the guidelines.
Suga, who has seen his approval ratings plummet over his handling of the pandemic, is expected to formally announce the state of emergency on Thursday evening, hours after his minister in charge of the Covid-19 response warned that pressure on Tokyo's hospitals was reaching "crisis point".
Updated

04:39
Japan to declare state of emergency for greater Tokyo
Japan is to declare a state of emergency in the greater Tokyo area later today, after a record number of coronavirus cases were reported in the capital and across the country.
The prime minister, Yoshihide Suga, has come under pressure from his own health experts to take action, as the country battles a third wave of infections far more serious than those seen earlier in the pandemic.
Tokyo reported a record 1,591 new infections on Wednesday, while nationwide cases exceeded 6,000, also an all-time high.
The measures, which will go into effect on Friday and end on 7 February, will be less strict than lockdowns seen in other countries, and unlike Japan's first state of emergency in the spring, schools will not be asked to close.
In addition, sports events will be allowed to go ahead, with the cap for spectators revised down to 5,000 people or 50% of capacity, whichever is smaller.
02:39
China reports highest local cases since July as travel to Hebei province blocked